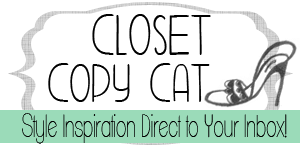 Kelley from
the Grant Life
and Natalia and Christie from
Ma Nouvelle Mode
have the best ideas! They've invited their bloggy friends to dig into their closets and get creative. This is the second week that I've participated and I'm lovin' it. You should seriously consider signing up… you won't regret it!
This week we were challenged to pull out our boots and create a summer outfit. To complete the look, we were also challenged to incorporated fun braids into our overall look.
I chose my outfit and spent the day running errands with my husband. We also stopped at our family farm so we took a few pics. I'm still feeling a little awkward taking photos in outfits but I do think it helps build my confidence.
Dress: Dots/Boots: Aldo/Belt:Target
The biggest confidence boost came from my mama! When I went over to her house this afternoon she squealed, "look at my baby! Get over there and let me take your picture." She's so cute! Her compliments always mean the most to me so it's only fitting that I share the photo she snapped too!
This challenge is such a blast and really helps me use the resources I have in my closet versus buying all new. It makes me happy and J happier! Double win.